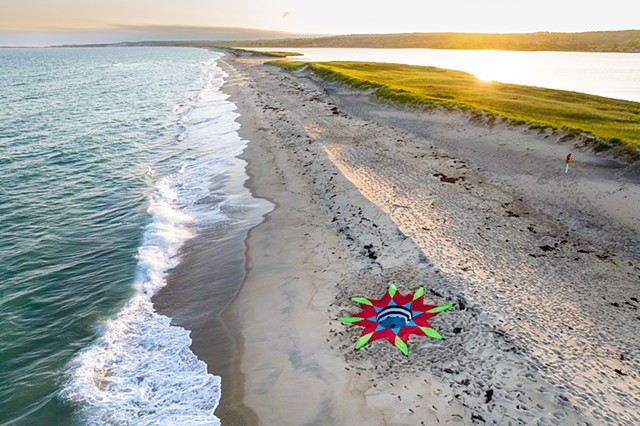 Talk to me: Reflections on Sea Spotting challenges the utility of quilts, the communication of patterns and the temporary signal used in fissure of time and locations of struggle. As a digger of the earth, I seek to be in communication not only with the landscape but with the context of historical land and conceptual artists who used the body, site and earth as locations of ethics and value. As David Hammons, sold snowballs, to challenge the nature of what artwork is at his Bliz-aard Ball Sale, 1983, Nancy Holt watched the sun through tunnels to bring the desert back to human scale (Sun Tunnels, 1973–1976) while Allan Kaprow considers the privacy of exchange by trading dirt (Trading Dirt, 1983). Seafaring and its encounters have also shown up in artist works interrogating the water as passage and a route for immigration (Don't Cross the Bridget Before You Get to the River, 2008) Francis Alys and Bas Jan Ader (In Search of the Miraculous, 1975).
I seek to build off of the non-wifi of communication by seeking a non-urgent and performative reveal of SOS communications. Known as a message broadcast to an untraceable person in an emergency, I look for the ambiguities of audience, the non-emergent disclosure of time/space. I want to reference both a treasure map and an airplane target landing. My quilts will be targets for viewing. I will utilize pathways to instigate the ability to spot and recognize patterns for visual decoding. This work will contribute to a genre of artists considering notions of radical seafaring and critically engage with how the workmanship and the repurposing of this form of craft can instigate a larger topic of the labor of the worker, the seamstress and the utility of the service of naturalist, meditator and cerebral correspondent.

Carissa Carman's multidisciplinary artwork includes playful site specific interventions; pseudo–purposeful yet soulful and generous. Her performances, sculptures and printed materials reference already established systems, occupations, and skills while maintaining the aesthetic of the handmade.
Her work incorporates social activity, collaboration and public interventions that infuse botany, food, agriculture and communication alongside portable objects and structures.
Her collaborative practice partners with artists and professionals to negotiate the exchange of trade skills as a pioneer of do-it-yourself interpretations. Carman uses bogus instructions and surprising structural and innovative riffs on expectations of each object's function.